Resin Plant Manufactuer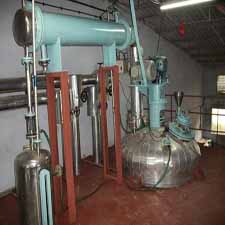 AMBICA BOILER & FABRICATOR the most cost effective & reliable manufacturer of Resin Plant, Alkyd Resin Plant, Polyester Resin Manufacturing Plant, Polyster Resin Plant, PVA Emulsion Resin Plant, Epoxy Resin Plant, Phenol Formaldehyde Plant, Clorinated & Silicone Resin Plant, Melamine Formaldehyde Plant manufacturer in India. Our other products are as follow like Chemical Processing Machineries viz. Reaction vessels, Condensor, VacuumTray Dyrer, Crystlizers, Heat Exchangers / Condensors, Ribbon Blender Mixer, Sigma Mixer, Mass Mixer or Pharmaceutical, High Speed Stirrer, High Speed Disperser /Dissolver, Filters, Ball Mills, Tray Dryer, Pilot Plants, Distillation Plants, Resin Plants. We are also manufacturers of Various Equipment, Machinery required by Chemical, Dyes, Pigments, Pharmaceutical, Bulk Drugs, Paints, Plastics, Food Industries, Adhesives & Coatings, Ceramic Industry.
ResinPlant Manufacturer, India
| Resin Plant | Chemical Machinery | Paint Machinery |
| --- | --- | --- |
| Alkyd Resin Plant | Reaction Vessel | Twin Sahft Disperser |
| Polyester Resin Plant | Ribbon Blender | High Speed Disperser |
| Phenol formaldehyde Resin Plant | Heat Exchanger / Condensor | Ball Mill |
| UF Resin Plant | Pressure Vessel | Pug Mill |
| Saturated Resin Plant | Limpet Coil Reaction Vessel | High Speed Stirrer |